BMW Motorrad Oldtimer Franz Mayer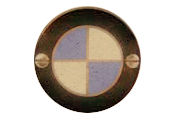 Dear BMW- Enthusiast from outside Germany!
Most people visiting my website understand my language, therefore the descriptions are only available in German.
If you are from abroad and want to know any details about the bikes and me, please feel free to contact me in English.
In case of purchase, I am prepared to organize the transport to your home country.
Address:
Franz Mayer, Oberzeller Str. 12, 85122 Hitzhofen
Phone:
after 7pm: 08458 9916 mobile: 0172 86 12 784
Email:
info@altes-motorrad.de